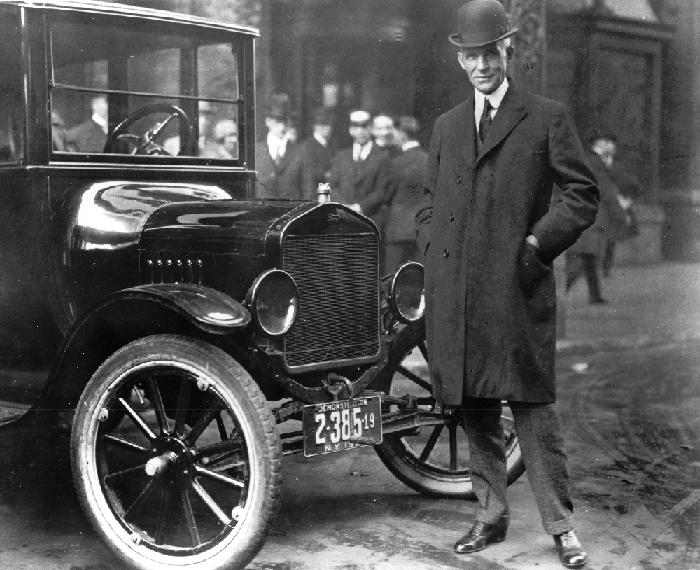 It's a little bit like American Idol,
except everybody is Simon Powell.
-- President Obama, on his first two months in office.
Although his father wanted him to be a farmer, a seventeen-year-old from Michigan dropped out of school to follow his passion for mechanics. In his own words, his family had "all but given [him] up for lost."
In 1899, his employer offered him a promotion with the condition that he give up his private obsession with designing a gasoline engine that would inexpensively transport people. He refused, and quit his job.
He became the object of much derision for trying to 'democratize' the automobile by producing one at a price the common man could afford. The founder of the Ford Motor Company went on to become that rare person to mass-produce his own invention. By the time the Model T gave way to the Model A in 1927, the pioneer of modern assembly-line production had sold fifteen million worldwide.
Do you have to lead knowing some of the people you're leading don't like you very much? If you want to become a leader who "makes a ding in the universe," as Steve Jobs once said, you have to be willing to go against the grain when your deeper values require it.
This week, make a pact with yourself to do three things: First, to accept that some people will not support you or what you are trying to create. Second, to learn what you can from their good opinions. Third, to discard the rest and get on with the challenge of effective leadership.
_____________________________________________
Anthony Silard is the president of
The Global Leadership Institute
and the author of the Simon & Schuster book
The Connection: Link Your Passion, Purpose, and Actions to Make a Difference in the World
. To receive
Smile, It's Monday
each week in your inbox and a free copy of Anthony's new audio CD, "The Surprising Source of Your Passion", enter your email
here
(1-step only).